Assigning domains
Assign your domain to published websites
Basically there are 2 types of internet addresses with MAGIX:

1. The free MAGIX web address http://your-name.magix.net.
This "subdomain" is exactly like a real domain and allows you to access your website(s) online.
You can change the name preceding .magix.net (i.e."your-name") at any time.

Important to know:

MAGIX offers based three exstensions based on that subdomain, each can be respectively used for Services
Online Album, Website Maker and Hosting (FTP) , provided they have access to these services.
- http://your-name.magix.net > Completely independent, can be used with all services
- http://your-name.magix.net/album > Only for the homepage of the Online Album
- http://your-name.magix.net/website > Only for Website Maker published websites
- http://your-name.magix.net/public > Only for sites uploaded by FTP (e.g MAGIX Web Designer)
2. The "real" domain such as "www.domainofyourchoice.co.uk"
These classic internet addresses can always be registered cheaply using the MAGIX domain service.
You can choose from different domain extensions (.de, .com, .net,.org ...). The registration is done through
our service partners and may take some time. In most cases, domains are available for a few hours and then
can be assigned to your website.
Options:
You can assigne your web address and your MAGIX registered domains to any published website (homepage of the Online Album, Website Maker websites via FTP / Web Designer uploaded web pages). In addition, you can also set up a redirect to other domains (these need not be registered with MAGIX) or even a construction site (if your website is down should be visible).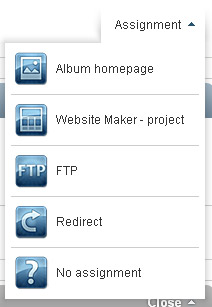 Assign your domains to websites:
Go to the Online World Control Center (log in) on the right navigation in the "Domain & E-mail" section. Here you will find an overview of all projects (published pages) for each activated service. In most cases you will find your newly registered domain at the bottom in the "not yet assigned domains" section. Either way, at any time you can assign any one of your domains with a few clicks to any available website. Simply click on the corresponding domain on "assignment". A drop down menu will appear with a selection menu with assigning options.
Example: Assign a MAGIX Web Designer (FTP) uploaded web site:
1. Click on "Assign" and select "FTP" from the menu.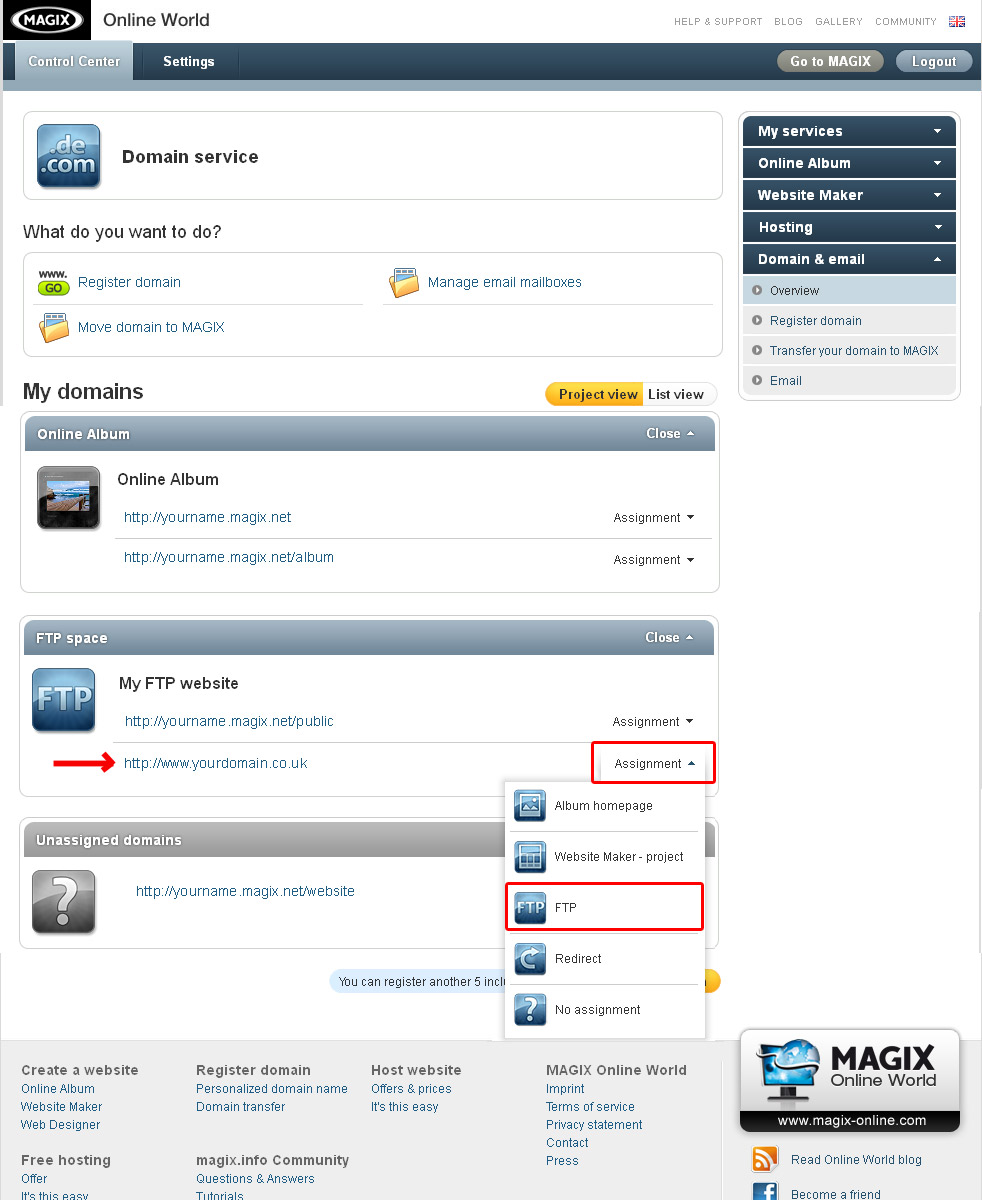 2. In the FTP section select the folder, in which the index.htm file of your website is located.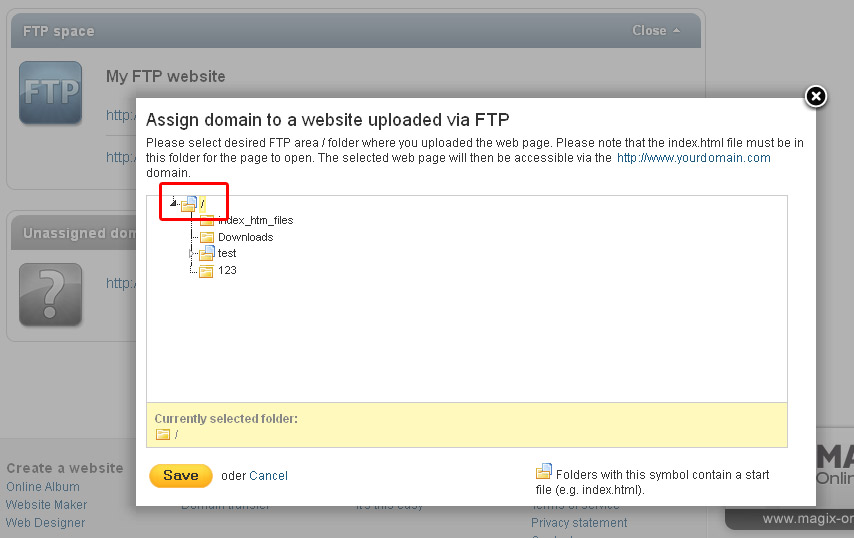 Important:
All folders of your FTP web space with a blue sheet of paper contain an index.htm file. Just click on the folder in which the desired website is located and then click on "Save." From that moment the assigned website can be accessed on the corresponding domain.